Accidently may have suggested to my friends that I'm in love with a flaming-gay actor named Martin Freeman.
I was at lunch, showing them the pictures I uploaded to Tumblr last night on my phone and I may have sent the wrong message…
Me: Here's Martin Freeman on The Office, the British version. He's so cute! Isn't he cute?? Look at him!
My friends: "…."
Me: And here he's kissing this guy on The Office! Look at his face in the last picture! HE'S SO HILARIOUS.
My friends: Uhh…?!
Me: Here's something I reblogged. This is Benedict Cumberbatch and Martin Freeman on Sherlock. Martin's a bit older here, still cute though.
My friends: 
Me [giggling]: And -Oh my gosh- look at these screenshots I took of The Office… He's so funny!
My friends: Oh my god—?!?
Me: And I got a bunch of pix of him bumming some guy in Ali G Indahouse! LOL!
My friends: WHAT THE HELL HAVE YOU BEEN WATCHING, RACHAEL?!?!
Me [thinking during swim practice]: Oh god almost all those pictures implied that Martin Freeman radiates flaming rainbows and that I love him because of that.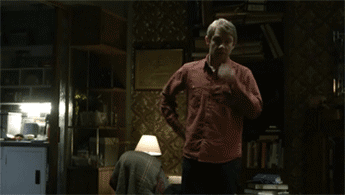 Not gay, guys! (Except for Sherlock.)